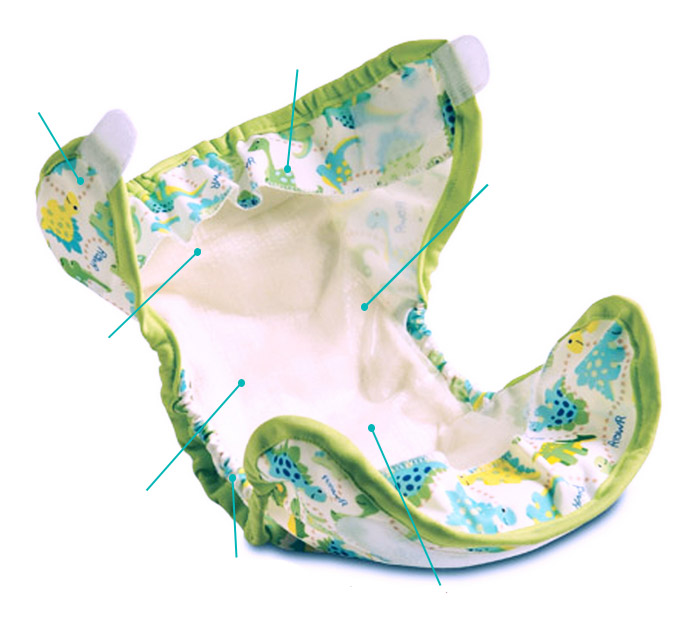 No-Leak Flap
Baby clothes stay dryer with our No Leak Flap[more]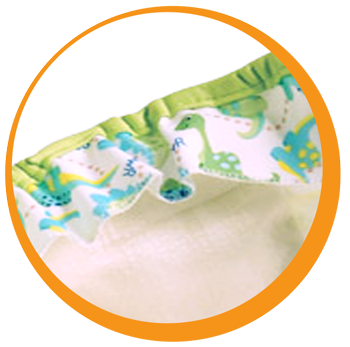 No Leak flap
Our No Leak flap prevents moisture from wicking up over the waist.
Cover
Our washable, water-resistant, form-fitting covers provide leak protection and added comfort. Exceptional performance, patented design. [more]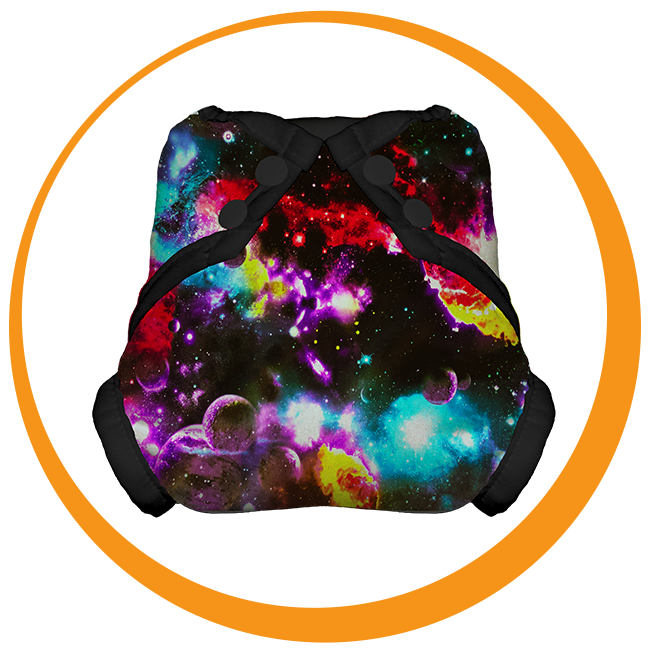 Cover
Our covers are made of high grade, water-resistant PUL. They are cute and durable, and engineered to fit a wide variety of ages and body types. Our newborn covers fit most babies from 6 - 16 lbs. Our Medium size covers fit most babies from 10 - 36 lbs. For more information on fit, go to our FAQ's
Snap Tabs
Sturdy snaps keep the No-Fold Diaper firmly in place -- no shifting, no bun the poop, and flush! [more]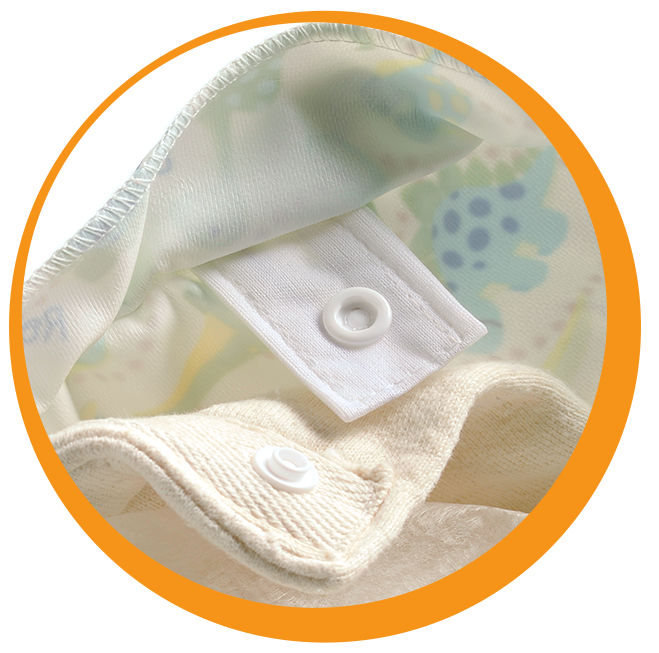 Snap Tabs
The No Fold Diaper and Flushies Liner are secure thanks to our easy to use snap tabs. Sturdy snaps and a heavy-duty sewn-in tab are another example of our high quality materials and workmanship.
Gussets
Our Gussets are elasticized to provide a secure but comfy fit for your baby. [more]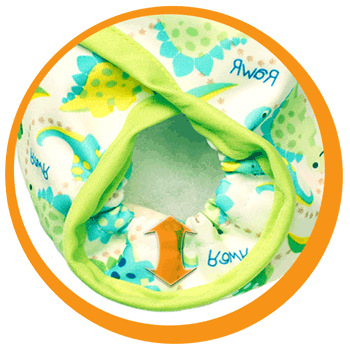 Gussets
Our gussets are elasticized for a comfy, no-pinch fit that prevents leaks. We\'ve tested our gusset over and over to make sure that it is just right. For the best, no leak fit, make sure the elastic is in the crease between your babys leg and abdomen.
Hemp Booster
Customize absorbency by adding hemp Boosters for heavy wetters or peace of mind overnight. [more]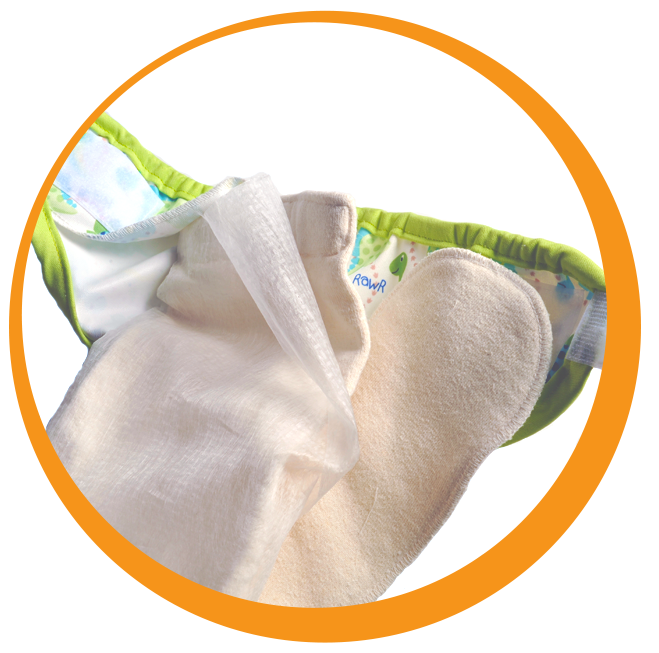 Booster slides in
Add Boosters for more absorbency when you need it - if your baby is a heavy wetter, you can fit up to three boosters.
No Fold™ Diaper
Our No Fold Diaper is made from an 100% organic hemp blend for super absorbency, plus snuggly softness to boot. Reinforced edges snap solidly into place. [more]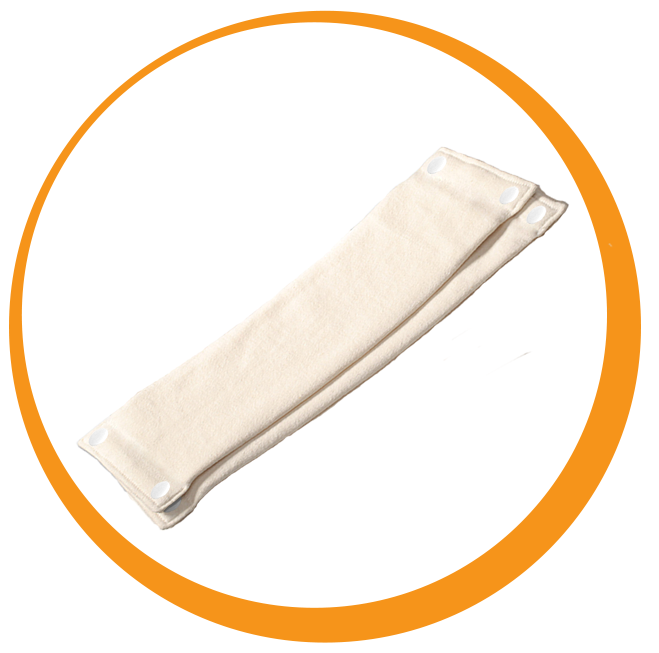 No Fold snaps in
Our No Fold Diaper snaps in place at each end. So our diaper won\'t bunch up even with a very active toddler. The edges of the diaper are reinforced for strength and durability.
Flushies®
Durable, gentle cornstarch Flushies attach securely to keep messes contained. When it's time for a change, just gather the ends of the liner around the poop, and flush! [more]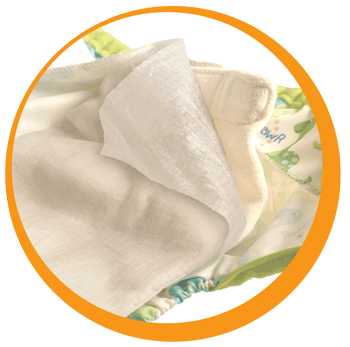 Flushies
Soft, soothing Flushies snap into the No Fold Diaper, making the liner totally secure, even with an active baby. At changing time, simply gather up and flush. No ick, no scraping or spraying. And unlike other cloth diapers, you can use creams and lotions with Flushies, if you wish.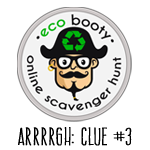 Go find out what you need to use Tidy Tots